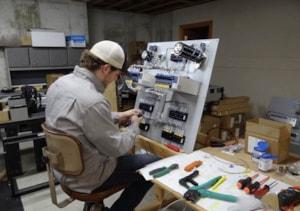 A solid company with solid results, we are always looking for candidates with an interest in growing with us. Whether you are considering a technical, engineering or administrative position, we look forward to hearing from you.
Professional Engineer designs substations, helps with power system studies, and advises on specifications for major power apparatus and equipment.
Project Manager oversees the project from preliminary design, pre-bid meeting, construction, to commissioning.
Engineering Technician performs walkouts to collect client data, exporting and analyzing the findings.
CAD Drafter supports departments in CAD drawings.
Qualified applicants receive equal consideration. No question is asked for the purpose of excluding any applicant due to race, color, national origin, religion, age, sex, disability, veteran status, or any other characteristic protected under local, state or federal law. WE ARE AN EQUAL OPPORTUNITY EMPLOYER.