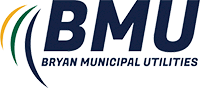 As you know, safety is #1 in this industry. When was an arc flash study last conducted on your system? What is your familiarity with NFPA 70-E guidelines and arc flash safety? PPE (personal protective equipment) requirements?
Injury, permanent disability, death, and damage to equipment are real concerns to most utilities managing staff and critical infrastructure. Bryan Municipal Utilities called on Spectrum Engineering Corporation, known for over 40 years of industry experience, to assess their needs.
Below are details of the services Bryan Municipal Utilities realized from this partnership:
ETAP was utilized to load and review arc flash energy incident levels and flash protection boundaries
A thorough analysis was conducted on each bus or location as configuration scenarios were run on protective devices, comparing existing with the recommended settings to potentially lower incident energy levels
A summary of results, recommendations, and printable switchgear arc flash labels were provided
Training addressed PPE clothing requirements and proper operation of energized equipment in conjunction with OSHA and NFPA 70-E guidelines
Spectrum Engineering Corporation cares about their clients and takes safety very seriously. They are equipped to help your utility with a regular 5-year renewal schedule, crucial in maintaining safety.